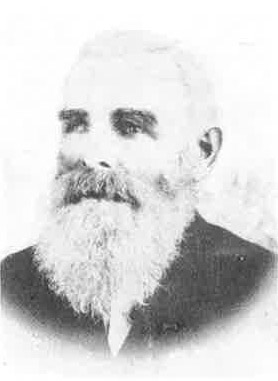 James Runciman was born in Scotland in 1829 and emigrated to New Zealand with his parents, arriving in the ship "Nimrod" in 1839.
The family settled in the Whangarei district but, in 1845 they were driven out by Maoris and took up a run of 2000 acres at Drury.
James continued there with his parents until the Waikato War broke out, when he joined Nixon's Light Horse and went all through the Waikato campaign, at the close of which he retired with the rank of captain.
Captain Runciman and his wife Margaret came to Newstead from Hautapu, taking over the 1517 acre Marsh Meadows property in the mid 1860's.
Captain Runciman took an active interest in community affairs. He gave 20 acres for the school and was instrumental in having the building erected.
In 1882 he was selected to go to the USA to have a look at cheesemaking. A cheese and bacon factory was established at Newstead on his return but failed due to financial difficulties.
Capt. Runciman donated trees for the schoolchildren to plant on special occasions. By 1889 he had planted 50,000 trees at Marsh Meadows, mainly for milling. Some of those trees are still standing today.
In 1883 Capt. Runciman chaired a meeting to form a co­operative farming association in the area. He and his son George also gave evening classes in woodcarving and carpentry. He was a member of the Waikato County Council for six years and chairman of the Tamahere Road Board for 19 years, and was the first chairman of the Newstead School Committee.
Capt. and Mrs Runciman had two sons and three daughters.
References
Newstead School (Marsh Meadows), Cenennial 1890-1990