PUKETAHA TRANSPORT LTD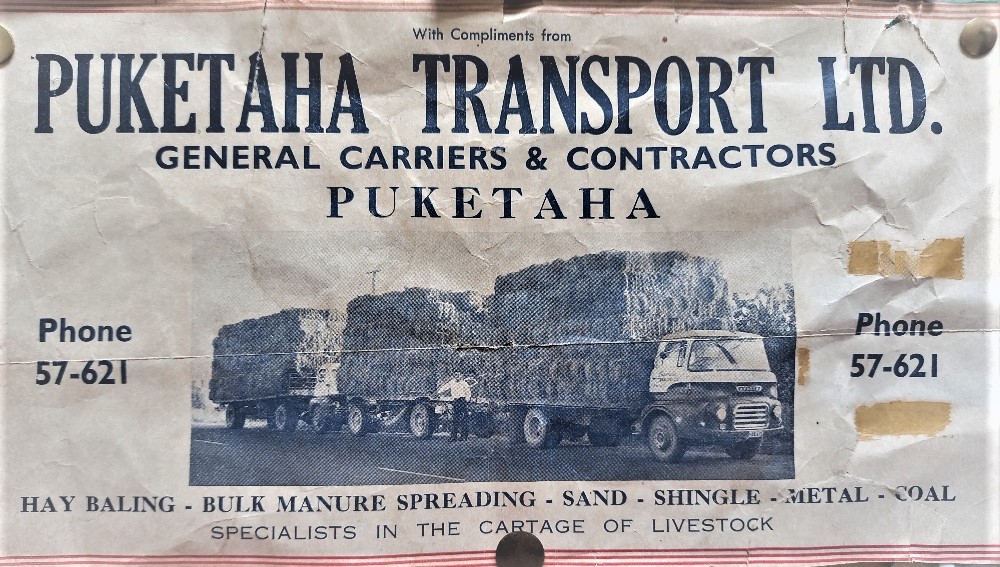 In the 1950s, 1960s and 1970s Puketaha Transport trucks were a common sight around the district.  Based at the corner of Puketaha and Gordonton Roads next to the service station you would often see the trucks lined up ready for work.  They were general carriers   carrying everything from livestock to the works or to and from the sale yards, wool to the Claudelands Railway Station and fertilizer to the local farms.  They would pickup and deliver other general goods as requested – even radiograms!
Jack Norton was involved with Puketaha Transport from the very beginning. With the help of his daughter, Jenny Lucey,  Jack has shared his memories  in the article below.
The Norton family also supplied the accompanying photographs
Here is his story: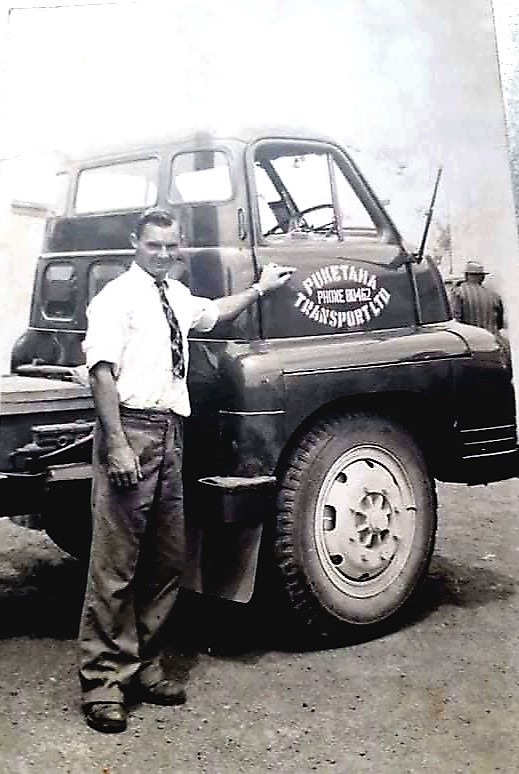 Puketaha Transport started up in 1953 when Hugh Schneebeli had the idea. Jack Norton & Terry Hunwick became shareholders. The transport purchased 4 trucks off Ernie Bogun, who lived on Puketaha Road. A 7 ton Bedford was purchased from Waikato Motors & another from Jack Gamble who was a single carrier Eventually they had 8 trucks. They carted everything from fertiliser, coal, milk in cans, bobby calves, stock, furniture, hay, casein, picked up hay & stacked it into barns.
Jack drove the 7 ton Bedford Articulator for 5 years. He transported 74 x 20 gallon milk cans to the Rototuna Factory, where it was made into cheese. Full milk cans were collected from farmers gates & swapped for empty cans. Jack Gambles' truck was used for transporting casein from Gordonton Factory to Orini Factory.
Bobby calves was another collection they did. A pair of scales were hung on the back of the crate and each calf was weighed individually and recorded in a book. One copy of the docket was left behind for the farmer. Coal was picked up from Claudelands Railway from a rail carriage, it had to be bagged and then was transported & stored at a shed by the roadside on Puketaha Road at Boguns farm until needed. 6 — 8 tons of slack or loose coal, was shovelled by hand by 2 — 3 drivers onto the truck from the train carriage and transported to both Rototuna & Gordonton Factories.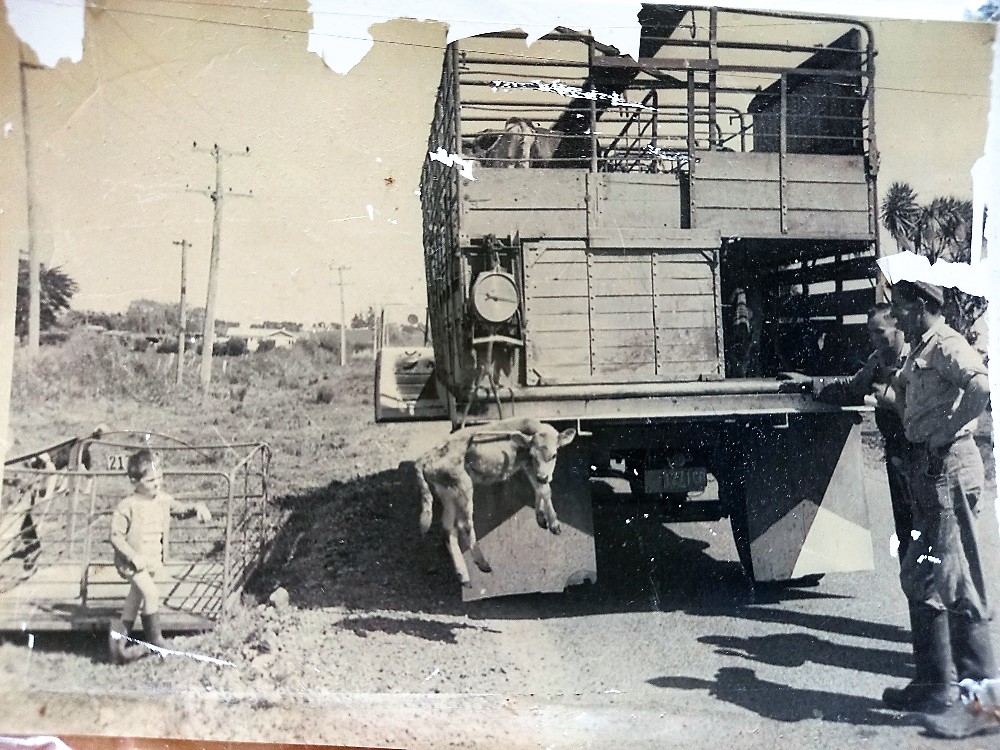 Fertiliser also arrived at Claudelands by train. It happened to clash with stock sale day. The drivers would firstly pick up & deliver the stock to the stock yards in Frankton, then go back to the depot and take the crate off and go to Claudelands to pick up the bagged fertiliser by hand. Jack was the first driver to drive the fertiliser truck and did so for 5 years. He did his best to do 3 loads a day.
Furniture was transported as farmers shifted around. One trip was way up north for Tom Greig family from Gordonton to Rawene, past Dargaville.
Around 1961, there was a drought up north and farmers from the Puketaha area donated hay and Jack remembers doing 8 trips. They had to pick up the baled hay from the individual farms before setting off on a very long tiring journey. Some trips, they went up & back in one day. Jack remembers being awoken once by another driver John Price and Jack remembers saying to him, "Can't a chap get a descent sleep around here?" John's reply, "Not when you are parked in the middle of the road!" On one trip, Jack took his 10 year old son Mike with him and about 2am they tried sleeping in the cab. Other times, they shifted some hay bales and slept in amongst them for warmth.
Jack worked for the transport for 16 years and said it was very hard work and extremely long hours.
Written by Jack Norton, 95years old, March 2023
Over the years a large number of men drove for Puketaha Transport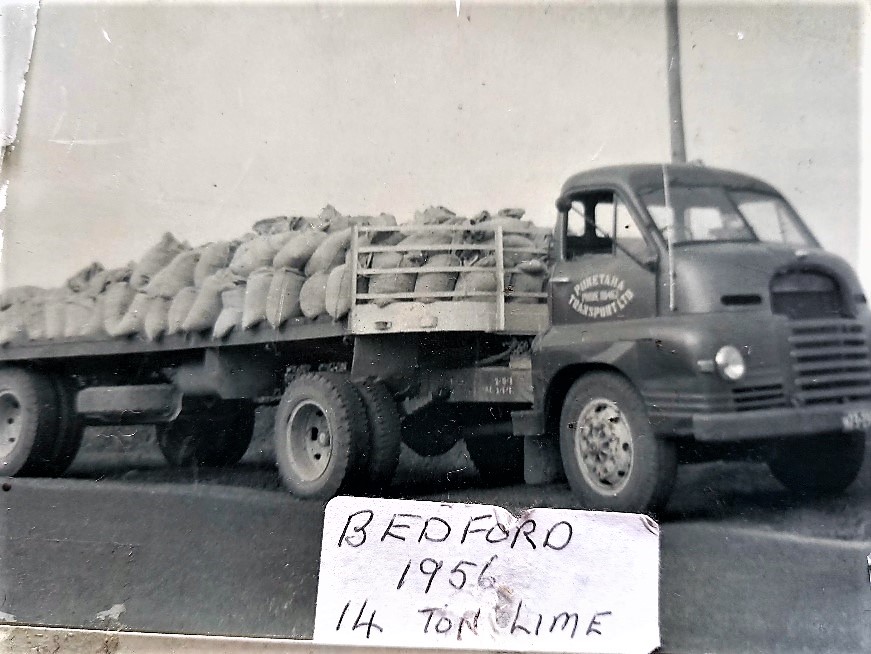 PUKETAHA TRANSPORT DRIVERS OF BYE GONE DAYS were:
Hugh Schneebeli, Sid McDonald, Sid Worster, Jack Norton, Terry Hunwick, Peter Van der Hum, Bruce Hunwick, Ray Hunwick, John Price, Tom Kittle, Karl Urlich, John Tadema, Jan Muller, Barney Philpot, Ian McEldowney, Nick Koning, Colin Morris, Brian Schneebeli, Peter Bolten, Alex Bradley, Brian Mikkelsen, George Karena, David Bradley, John Skipper, Harry Hampson, Mort Lewis, John Loomans,  Pat fell, Laurie Gooch, Wally Bond, Alan Keatley, Trevor Bull, Graham Armstrong, Bill Anderson, Ray Middlemiss, Ray Greaney, Tom Crosby.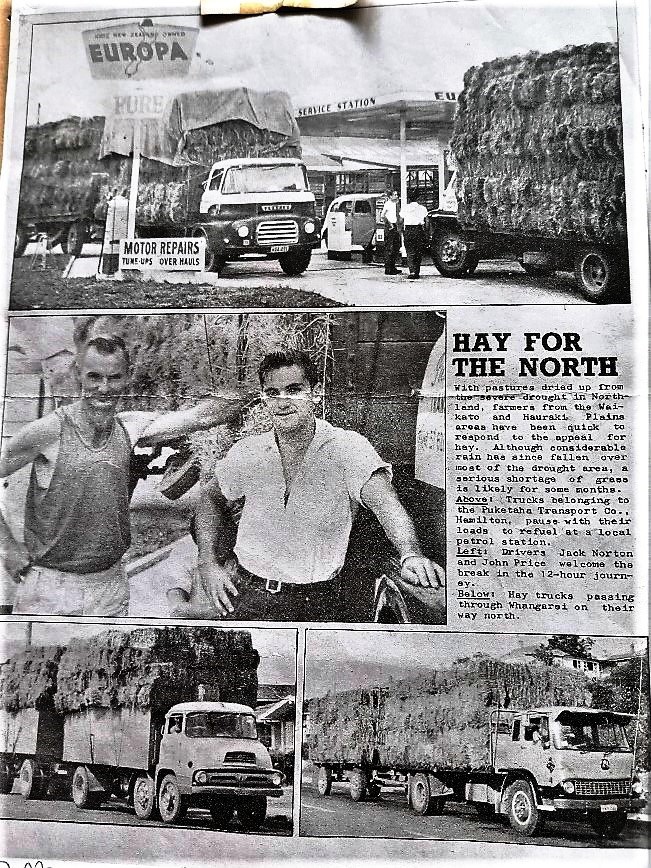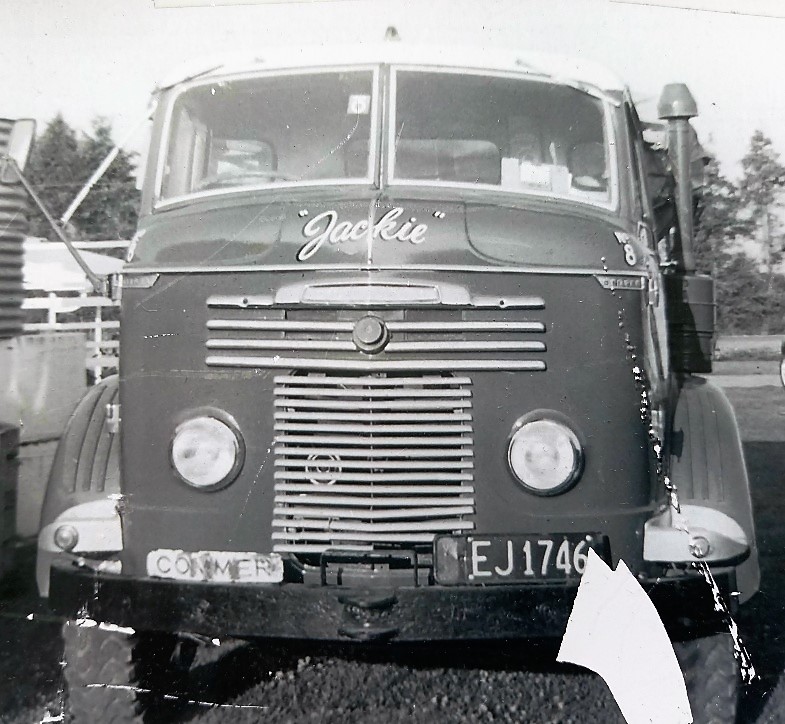 Invoices  - 1953,1955  &  1956

 
                                                                         --------------------------------------------------------------------------------